Advantages of Powerboss Cleaning Equipment
Innovative Technology & Quality – For over 30 years, Powerboss has been driven by the desire to fully understand the wants and needs of their various customers and the environments they operate in. Powerboss has developed the Aqua Stop System, maintenance-free gel batteries, on-board chargers, and simplified controls. By combining user feedback with intelligent engineering, these features combine to enhance productivity, comfort, and performance, ensuring a deep clean in less time regardless of your environment.
Industry Leading Safety – Powerboss places safety at the forefront of each design. Each unit is extensively tested and inspected before final shipment. This ensures that every Powerboss sweeper and scrubber will deliver reliable performance and durability long after the initial purchase. Their distinctive orange hue also ensures that they stand out in any environment, ensuring they're seen by employees and other personnel in the area.
Environmentally Friendly – In addition to performance and safety, Powerboss sweeper scrubbers are designed to conserve water and chemicals through the Aqua Stop System. This feature ensures that water and chemicals are only distributed beneath the scrubbing brush, not to the sides. This cuts water and chemical consumption by nearly 50%, allowing you to reduce both your environmental footprint and chemical costs over time.
Types of Cleaning Equipment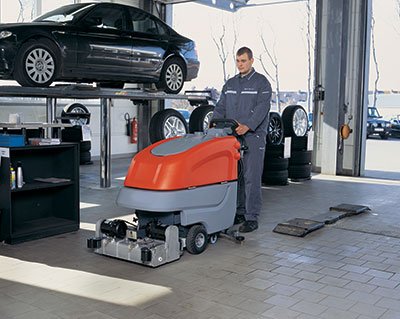 Sweepers – Combining a powerful sweeping brush with a high-suction vacuum, floor sweepers allow you to clear dirt, dust, and debris from floors in a variety of facilities. Each unit also features a large hopper, allowing you to gather more debris before the need to empty the container. Sweepers are available in a variety of walk-behind and ride-on configurations that allow them to be used in narrow-aisles or wide open spaces, ensuring you'll be able to find a sweeper that is perfectly suited for your cleaning needs.
Scrubbers – Scrubbers utilize powerful cleaning brushes alongside water and cleaning agents to deliver a deep clean. Many units feature large water tanks and the ability to clean with or without chemicals. This allows you to regulate the usage of chemicals based on the difficulty of the task at hand, reducing your environmental impact while cutting chemical costs. A selection of compact, walk-behind, and ride-on models also ensures that you'll be able to find a scrubber regardless of your requirements and space constraints.
Sweeper Scrubbers – Sweeper Scrubbers are hybrid units that combine the sweeping and suction power of a sweeper with the cleaning power of a scrubber. This means that they deliver a clean sweep and deep scrub in the same motion, ensuring a deep clean in far less time than conventional cleaning methods. This makes them the ideal choice for difficult cleaning jobs and large facilities held to strict sanitation standards.