Why Buy Used Telehandlers from Lonestar Forklift
From Midland to San Antonio, Lonestar Forklift has seven dealerships throughout Texas to meet your needs. Zoom booms, also known as telehandlers and extended boom forklifts, are always in high demand, and for good reason. You can use a telehandler in so many different ways, it makes them one of the most versatile equipment options on the market. From general construction applications, large landscaping and earth manipulation projects, an extended boom forklift can help you get the job done.
Choose from reliable brands of extended boom forklifts such as Manitou, JLG, SkyTrak, and Genie. Our sales representatives are always up to date on their zoom boom knowledge, so they will be able to help you find the exact machine you need for your application. Don't see what you need? Our inventory of telehandlers is changing daily so give our team a call!
Pick Your Perfect Extended Boom Forklift
Lift up to of 50,700 lbs, and as high as 57' with a telehandler. Our experienced sales reps will guide you through a series of questions to determine your equipment needs:
How long do you plan on operating your telehandler per day?
What is the heaviest load you will need to lift?
How high do you need to lift?
What environment will you be operating your telehandler in?
What budget have you set aside for your telehandler purchase?
Once we have an understanding of your equipment needs, we will be able to help you choose an extended boom forklift that will best fit your application.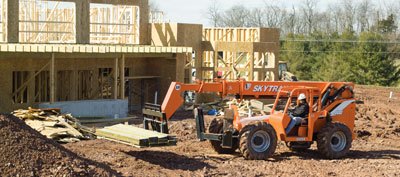 Did you know telehandlers can support a variety of attachments? Whether you want aftermarket or OEM attachments, our reps can source even the most niche products to support your work. Choose from common attachments such as bale clamps, 4-in-1 multipurpose buckets, and fork carriages. Or investigate more specific attachment options like crane-rated concrete buckets and tire handlers. Let us know what you need, and we will make it happen.
We've Got You Covered
Concerned about service and maintenance for your telehandler? Lonestar Forklift has you covered. We offer after-sales service to all customers to ensure their machine is always in optimal operating condition. We can provide you with parts options depending on the make of your equipment. You can also have your equipment serviced at each of our 7 branches or mobile service for more remote areas.
Contact your closest Lonestar Forklift location in the state of Texas today. We source a wide variety of telehandlers, so you're guaranteed to find exactly what you need for a price you'll love.