Yard Spotter Rentals
At Lonestar Forklift, we understand that maximizing your uptime is of the utmost importance. That's why we work hard to ensure that each of our yard spotter rentals are well-maintained and ready to work. Whether you're renting one yard truck, supplementing your fleet during peak season, or renting equipment for your entire operation, our rental inventory is sure to keep everything running smoothly and safely. We also have a dedicated team of experts that are ready to lend their assistance and expertise to any problem you encounter. Contact our rental team today to find the perfect solution for your needs!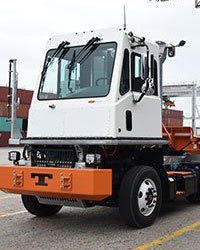 Benefits of Our Yard Spotter Rentals
Hydraulic 5th Wheel – Equipped with a hydraulic 5th wheel, the operator can load and unload a shipping container without having to get out of the cab. This increases productivity and operator comfort.
Power & Durability – A heavy-duty engine, reliable transmission, and high-quality axles are standard features of each model. Featuring a strong frame and thick bumper, each unit is built to endure the labors of shunting.
Improved Visibility – Many of our yard trucks feature windows all around the cab to improve visibility and allow the operator to better see their surroundings. This allows the operator to navigate the job site safely and efficiently, as they don't need to get out of the cab to gauge where they are compared to trailers, containers, and other equipment.
DOT Certified Options – Transport loads between locations with our selection of DOT Certified yard truck rentals. Each of these options can be insured and driven on the road, reducing the need for a semi-truck.
Yard Spotter Applications
Intermodal – When the job requires you to move heavy shipping containers around a ship or train yard, yard spotters provide a complete solution. Their hydraulic fifth wheel and improved visibility make them the safe and efficient option, as they can move more containers in less time.
Distribution – A yard spotter is a great addition to any shipping or distribution center. Their increased power, handling, and safety allow them to move containers to other bays or across the yard with ease. DOT Certified options can also be insured and driven on the road, allowing you to transport containers to another location without the use of a semi-truck.