Used Man Lifts
Lonestar Forklift carries some of the best used man lifts Texas has to offer. Did you know that we can source boom lifts from all over the United States? No matter what your request, our expert sales representatives will be able to find you the perfect lift. We only select the best used equipment for our inventory, so you can expect your man lift to arrive on site in fully operational, work ready condition. Don't see what you're looking for? Our inventory is changing daily, so give us a call and we'll find it for you!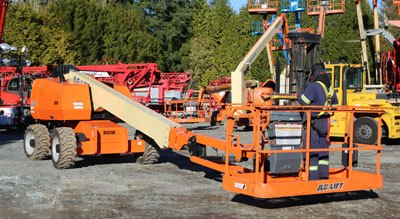 Boom Lift Types
A straight boom lift is great for reaching heights up to 135'.
With a 360° rotational platform at the base of the machine, this is an easily maneuverable piece of equipment.

Choose an articulated boom lift if you need to navigate around obstacles. The knuckle boom lift allows you to go up and over obstacles that might be in your way. This is a great piece of equipment to use on a busy outdoor site. Reach up to 150' with an articulated boom lift.
Boom Lift Power Options
Pick Your Power – Did you know that boom lifts come in either gas, propane, or electric configurations? With over 100 models to choose from, you can find the man lift that meets your specific job requirements.
Gas and Propane Models – These are ideal for outdoor use. You won't have to worry about downtime due to running out of fuel, as it's easy to keep more fuel on-hand in case of emergency.
Electric Models – These are the ideal option for indoor or specialty environments. If you're working in an enclosed environment, it's unsafe to be surrounded by engine emissions. Some working environments require machines that do not produce emissions or are very quiet. Electric boom lifts satisfy both requirements without any special modifications.
Browse our available inventory below or contact your closest Lonestar Forklift dealer today to learn more about our available used man lift inventory.