Forklift Repair
With a large team of equipment experts on hand, Lonestar Forklift is ready to assist you with your service requirements. Our experience in a variety of industries in addition to factory training from a variety of manufacturers allows us to provide comprehensive service for your entire fleet. Whether you're looking to bring your equipment in to one of our 7 locations around Texas or need us to come to you for mobile forklift repairs, you can be sure that each service will be done correctly and in less time. Contact our service team today to see how we can best fulfill your service needs!
Types of Service We Offer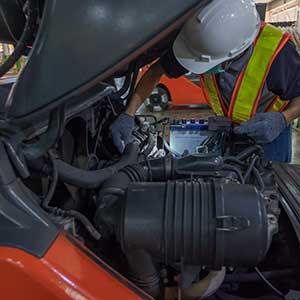 In-Shop – With 7 convenient locations around Texas, we offer in-shop repairs and service in Houston, Dallas, Garland, Midland, Austin, San Antonio, and Longview. Our highly trained mechanics can handle even the most complex repairs for all major brands of forklifts, telehandlers, aerial lifts, and more. This allows us to operate on your entire fleet, ensuring each unit is in good condition and ready to handle the demands of each job. Whether you're looking at simple repairs, maintenance, or even a complete overhaul of your equipment, our in-shop service centers have you covered.
Mobile – If you're unable to bring your equipment to one of our locations, one of our many field technicians will come to you! This allows us to service remote job sites and equipment that requires urgent repairs or preventative maintenance. Mobile forklift repairs, telehandler repairs, and aerial lift repairs are just a few of the services our highly trained field technicians can offer. We also offer scheduled maintenance programs and emergency break down repairs, allowing us to fulfill a variety of needs for different job sites. Supported by extensive factory training and an in-depth web of technical knowledge, you can be confident that our field technicians will complete each repair quickly and correctly every time.