Telehandler Rentals
If you're faced with difficult terrain and demanding job sites, our lineup of short and long-term telehandler rentals provide you with the solutions you need. Lonestar Forklift offers a variety of boom forklift/telehandler options that can meet the requirements of various industries. Whether you're working in forestry, mining, industrial or construction applications, you can be sure that we have a rental that will help you get the job done. Contact our rental experts today and we'll develop a telehandler rental plan that is perfectly suited to your needs.
Telehandler (Boom Forklift) Rentals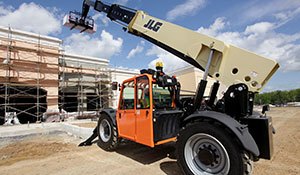 Boom Forklift – Also known as "Zoom Booms", these machines are among the most versatile on the market. With a selection of rentals from brands such as JLG, Genie, and Manitou, each unit is designed to handle the requirements of even the most demanding job sites. For job sites that require more lifting power, we offer a selection of high-capacity models. We also offer a number of compact models for job sites with less room to maneuver and operate. Certain models also feature 4-wheel drive and the ability to switch between 2-wheel, 4-wheel, and crab steering configurations, allowing them to traverse rough terrain and slopes with ease.
Each rental unit can also be configured with a variety of attachments including rotating carriages, man baskets, buckets, truss jibs, grapples, and winches. This further boosts their versatility and allows you to tailor each unit to your exact requirements. Boom forklift rentals are available in many configurations and choosing the wrong model for your needs can be costly. To ensure you have the correct unit for your application, contact our rental experts.