The Benefits
At Lonestar Forklift, mobile and materials handling equipment is our specialty. When you opt into one of our fleet management systems, you can rely on our years of experience while you focus on the day to day operations of your business. We're here to assist in making responsible long-term decisions and provide ease of ownership for all of your equipment. When you utilize our fleet management systems, you'll see the following benefits: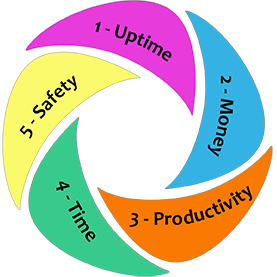 Optimum Turnover Time – Our fleet management software works to determine the optimum turnover time for each unit in your fleet. By determining this period of time for your unit, you'll be able to replace your unit before maintenance and intangible costs rise above what you would be spending on newer equipment.
Increased Uptime – We increase your uptime by providing total or preventative maintenance programs based on your needs. This reduces the chance of equipment breakdowns and virtually eliminates major component repairs.
Monetary Savings – We streamline your equipment costs, resulting in one monthly payment that is easy to track and account for. This fixed operating expense also helps you avoid any major capital outlays or surprises, keeping your budget stable and consistent.
Enhanced Productivity – Our fleet management programs enhance your productivity by offering additional rental programs to assist with peak seasons. Our team will ensure that your downtime is kept to an absolute minimum, providing loaner units while your unit is down for maintenance or repairs.
More Time – We save you time by reducing the amount of supervision and monitoring you need to perform on your equipment. Our fleet management software provides you with complete data management, accounting services, and allows you to view all equipment at multiple locations through the push of a button.
Increased Safety – By replacing old and outdated equipment with the latest units, we increase the safety of your site. Newer equipment often features enhanced safety features and a more streamlined design that increases visibility and reduces the chance of incidents. This updated equipment also allows you to remain compliant with changing emissions standards.