Lonestar Forklift is Your Source for Quality Used Construction Equipment
Are you in need of reliable and powerful construction equipment for your projects? Look no further than Lonestar Forklift. We understand the unique demands of construction sites and the importance of having equipment that is safe, efficient, and capable of handling any task. With our wide selection of used construction equipment from top brands like Manitou, JLG, Genie, and more, you can trust that we have the perfect unit to meet your requirements.
Forklifts: Handling Heavy Loads with Ease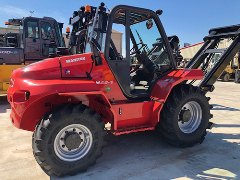 When it comes to high-capacity forklifts that can navigate rough terrain, Lonestar Forklift has got you covered. Our construction forklifts are designed to handle even the toughest job site conditions, from moving heavy stones to operating in challenging weather. With lift capacities over 143,000 lbs and 4-wheel drive configurations, our forklifts can tackle any load and conquer any terrain. We offer both new and used forklifts from leading brands like Hyundai, Carer, Manitou, Konecranes, and more, ensuring exceptional performance whenever you need it.
Telehandlers: Versatility, Power, and Performance
For unmatched versatility and adaptability on construction sites, our telehandlers are the perfect choice. With models from JLG, Genie, Manitou, and other leading brands, we can provide you with the ideal used construction equipment to meet your specific requirements. Enhance their capabilities even further with our wide variety of attachments, allowing you to tackle specialized materials and increase productivity.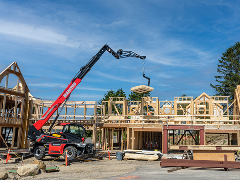 Scissor Lifts: Reaching New Heights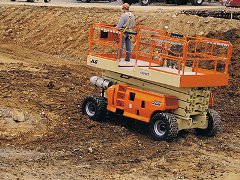 When it comes to rough terrain scissor lifts, Lonestar Forklift is your one-stop shop. Our selection includes JLG and Genie models with rugged tires and impressive gradability of up to 50%. No hill or rough terrain will stand in your way. Some models even feature built-in generators, enabling you to use power tools at any height, improving productivity and safety. With lift heights up to 40', our scissor lifts provide access to areas that others simply can't reach.

Boom Lifts: Extending Your Reach
Looking for reach capabilities and maneuverability? Lonestar Forklift offers a range of straight and articulating boom lifts from trusted brands like Manitou, Genie, and JLG. Whether you require the straight boom lift's extended reach or the flexibility of an articulating model, we have the ideal used construction equipment for your needs. Our models are designed to handle unruly terrains and adverse operating conditions, with various drive/steer configurations available. Optional generator and lighting packages also ensure you can work at night or in low-light areas. With our boom lifts, you can complete your tasks safely and efficiently.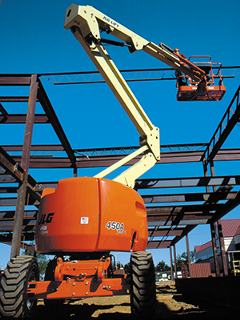 Skid Steers: Compact and Versatile Workhorses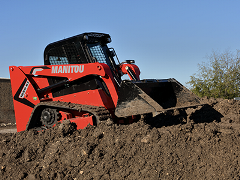 In construction, landscaping, and agriculture, skid steers and track loaders have proven to be versatile and powerful machines. Their compact size and maneuverability make them perfect for tight spaces and job sites with limited access. Skid steers and track loaders can handle a wide range of tasks, including digging, grading, hauling, and lifting. At Lonestar Forklift, we offer different models and attachments, each with unique features and capabilities. We can guide you on proper maintenance and help you decide whether renting or buying a skid steer is the best option for your needs. Adding a skid steer or track loader to your compact used construction equipment fleet will undoubtedly enhance your productivity.
At Lonestar Forklift, we are committed to providing you with the highest quality used construction equipment that meets your specific requirements. Contact our equipment experts today to inquire about our free onsite inspections, ensuring you get the best options for your projects. Trust Lonestar Forklift to deliver reliable and powerful equipment for your construction needs.