Used Reach Stackers from Lonestar Forklift
Buying a used reach stacker has never been easier. With 7 locations throughout Texas, Lonestar Forklift can help you get the equipment you need. Reach stackers are becoming more and more prevalent in intermodal applications because of their extreme versatility and ability to stack more efficiently. Revolutionize the layout of your yard or port by being able to stack one, two, and three rows deep, and up to six containers high. Don't see what you're looking for? Give us a call! Our inventory of reach stackers is changing daily.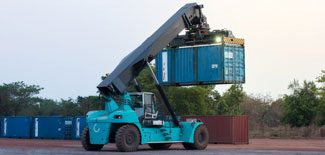 Since 1991 Lonestar Forklift has been providing quality used equipment to hundreds of satisfied customers. We sell a wide variety of used equipment from brands such as Hyster, Konecranes, Taylor, and Terex. With locations in Houston, Austin, Fort Worth, Dallas, Midland-Odessa, Longview, and San Antonio, we have the equipment you need right around the corner. Don't know what you need? Our experts will be able to select the perfect machine for your application based on your specific site requirements.
Why Buy a Used Reach Stacker?
Your capital cost is a fraction of a new machine
The asset has already been depreciated
Our used equipment is delivered to you in work-ready condition
Customize Your Used Reach Stacker with Attachments
No job is too big or too small for a reach stacker. Many brands, such as Hyster and Konecranes, offer attachments to increase the versatility of their machines. Lonestar Forklift representatives are well-versed in all things related to reach stackers. All you need to do is let them know what you are trying to accomplish in your yard and they will be able to help you select the correct attachment.
Contact one of our representatives today to learn more about our high quality available inventory.