Lonestar Forklift Maintenance Programs
Lonestar Forklift offers a variety of maintenance programs that can be adjusted to your specific needs. Whether you're looking for standard planned maintenance with set intervals and costs, annual inspection programs, or fleet tracking, we've got you covered. In addition to our comprehensive preventative maintenance, we also provide detailed tracking, cost reporting, technical support, OEM warranty support for various manufacturers, and custom invoicing. This allows us to meet the needs and requirements of various job sites. Contact our service team today to see how we can provide you with the perfect maintenance solution for your needs.
Types of Maintenance Programs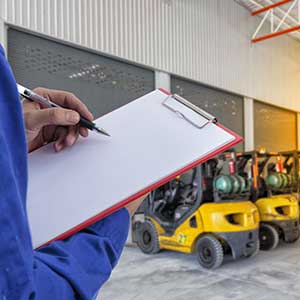 Planned Maintenance – Our planned maintenance programs ensure that your equipment is regularly serviced to prevent performance issues and breakdowns. We perform an in-depth system analysis that determines the maintenance intervals for your needs. This system analysis also alerts you to any major repairs that will need to be performed in the future, allowing you to budget for these expenses. A planned maintenance program allows you to operate with peace of mind and control your downtime. Furthermore, all of our preventative maintenance is performed quickly and all parts used are backed by a factory warranty and support. When you want continuous support that alerts you to all upcoming major repairs, planned maintenance plans are the perfect solution.
Total Maintenance – Lonestar Forklift offers hassle-free forklift, telehandler, aerial lift, yard spotter, container handler, and reach stacker repairs. Total maintenance plans cover all aspects of the equipment excluding abuse and wear items, allowing you to reduce costs throughout the term of the plan. This ensures that there are no surprise expenses for major repairs as they're included in the cost. In addition to cost savings, each service is performed by one of our highly trained Lonestar Forklift mechanics. We also use only high quality parts backed by leading warranties for each repair, allowing you to operate with peace of mind. Contact our service team today to create a total maintenance plan that is perfectly suited to your needs!
Fleet Tracking – In addition to our maintenance programs, we also offer fleet management systems that allow you to view the details of your entire equipment fleet online. This system allows you to filter by a variety of parameters, allowing you to monitor each unit. Other features of this system include the ability to view detailed maintenance data, review all service history, and track the cost per hour of each machine. All of these allow you to stay on top of maintenance and operating costs. For more information on this program, contact our team today.