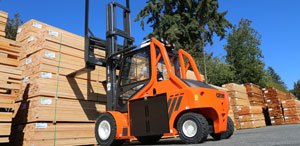 When it comes to electric forklifts, many operators and industry specialists have some preconceived ideas about their power and operation. This is typically due to the fact that there many myths surrounding the capabilities and limitations of electric forklifts. Despite how widespread these myths may be, the truth to them is limited at best. Due to recent advancements in technology, electric forklifts are now as capable, if not more so, than traditional LPG or diesel models in many applications.

Below is a list of common myths regarding electric forklifts followed by the truth behind their operation and abilities. With this information, you'll be properly informed when it comes time to add a new forklift to your operation.
1. "Electric Forklifts Don't Offer the Power I Need"
The most common myth surrounding electric forklifts is they don't have the power to lift heavy loads. While this may have been true at some point in time, electric forklifts now offer lift capacities up to 55,000 lbs. This allows companies to cut down on emissions and reduce their environmental footprint without sacrificing performance and reliability. Regardless of your industry or application, an electric forklift can provide the perfect solution for your needs.
2. "Electric Forklift Batteries Require Too Much Work"
Traditional lead-acid batteries used to require watering, storage space, and time to maintain. Each of these issues have been resolved with the arrival of lithium batteries. These batteries are quickly becoming an industry standard for electric forklifts. This means that you no longer need to worry about watering and storage, saving time and freeing up space for other purposes. Lithium batteries also produce less heat, greatly reducing the wear and tear on equipment and the risk of overheating in warm environments.
3. "Electric Forklifts Are Far More Expensive"
While it's true that electric forklifts often require more capital up front, they also present great cost savings over time. This is due to the elimination of fuel costs, decreased maintenance costs, and reduced total downtime. These savings add up quickly, leading to a full return on the initial investment within 1-2 years for most operations. If you want to cut down on emissions and operating costs, look no further than an electric forklift.
4. "Electric Forklifts Don't Offer the Same Run Time"
Though older models used to suffer from short run times and long charging windows, newer models are designed with longevity in mind. With ultra-fast charging delivering full recharge times as low as 1.5 hours and constantly increasing battery capacities, electric forklifts are designed to deliver the performance you require even if you're working multiple shifts. Some models can even gain a large portion of their charge back from quick 15-minute charging sessions. This allows operators to charge their equipment while on coffee or lunch breaks, optimizing output and run times.
For more information on electric forklifts and to determine if they're the right fit for your operation, contact our team today!