If you live in North America and have ever been around a road construction site, farm, or any other project, the chances are that you've seen a skid steer and maybe have operated one. How much do you know about one of the most utilized and versatile pieces of equipment ever made? How did the icon of American ingenuity and design become one of the best-selling pieces of equipment in North America? Are you aware of the common skid steer uses?
Wondering what you can do with a skid steer? Questions about skid steer applications are welcomed at Lonestar Forklift, where we are invested in providing skid steer solutions for our customers. We also would like to spread some skid steer history on how two hardworking, rural American brothers designed the skid steer with patience and some old-fashioned hard work.
Skid Steer, Skid Loader, Compact Tracked Loader, and Bobcat, the most recognizable brand, are all frequent names for various skid steer makes and models. You've probably seen a skid steer loader used if you live in a city, town, or the country; they're prevalent on construction sites, farms, and ranches and have become a staple of the snow removal industry.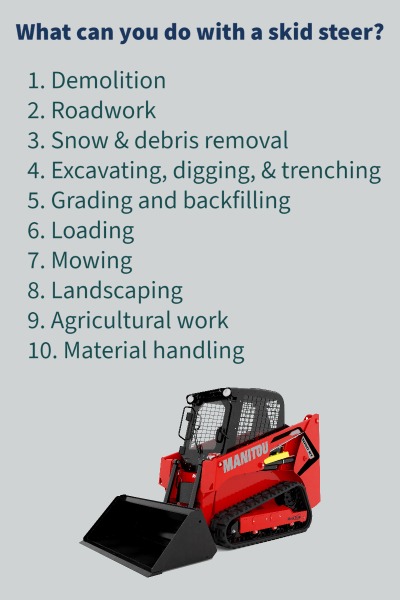 Invented by Louis and Cyril Keller in Rothsay, Minnesota, the skid steer loader was initially known as the Keller Self-Propelled Loader. A local Turkey Farmer commissioned the brothers to design the multifunctional machine for use on the farm; word of the invention immediately spread, and demand skyrocketed. The skid steer's purpose was versatile, and farmers and other equipment operators quickly saw its use. Louis and Cyril partnered up with Melroe Manufacturing a year later, in 1958, to enhance manufacturing and refine the product. The skid steer began to resemble the equipment we see today. The skid loader uses have evolved with the development of improved product design.
What can you do with a skid steer?
Demolition
Roadwork
Snow and debris removal
Excavating, digging, and trenching
Grading and backfilling
Loading
Mowing
Landscaping
Agricultural work
Material handling
There have been several improvements to the design of the Skid Steer Loader over the years, one of the most important being the introduction of the first "Tracked" machines in 1999. More than 15 different companies now make skid Steers and Compact Track Loaders. Every year, roughly 60 000 skid steer and compact tracked loaders are sold in North America or to one every 9 minutes.
Manitou is a global leader in Material Handling Solutions. They launched their first rough terrain forklift in 1958. Over the years, they have evolved into a world leader in innovation with forklifts, rotating telehandlers, and high-capacity telehandlers. Manitou expanded to the United States in 2008 with the purchase of Gehl Manufacturing, a notable skid steer manufacturer. With this acquisition, Manitou had acquired the patents to various skid steer designs and two manufacturing plants in the mid-west. Gehl products were designed and constructed exclusively in the United States by a highly trained staff. What Manitou did next was exceptional. They kept manufacturing in the United States and made improvements to manufacturing, product, and parts support. Instead of sourcing production lines overseas, Manitou decided to support American jobs and keep making quality products in America. We're partnered with Manitou to deliver their products to our customers and help them through the service life of that piece of equipment. If you have any questions, please reach out to your local sales rep or our contact page.