Carer Electric Forklifts, located outside Bologna, Italy, has been manufacturing electric, high-capacity electric forklifts since 1976. North America distribution is based out of Seattle WA and Vancouver Canada. These locations also include full parts inventories and technical support departments.
Approximately 40% of the total staff at Carer is found to be in the engineering department. This department is responsible for the continuous development of new and innovative features and benefits that go into the manufacturing of their high-capacity electric forklifts. By achieving their goals, engineers have provided those companies across many top industries with the ability to save on their operating costs while reducing harmful exposure to carbon emissions. Companies who are currently operating high-capacity LP or diesel forklifts, can now confidently switch their fleet to electric lift trucks without losing any of the functionality they need.
The RH2 & R-short series, designed to lift anywhere from 9000lbs. to 17,500lbs.
Carer's introductory R series is available with an 80V or 96V operating system and can operate in either indoor or outdoor environments. This series of lift trucks was designed with a 24" load center and includes models with lift capacities ranging from 9000Lbs to 17,500Lbs. This and other Carer series forklifts have been strategically designed with an elevated battery and operator position as a counterbalance. The balancing of the weight evenly between all four wheels offers increased stability as well as lift heights.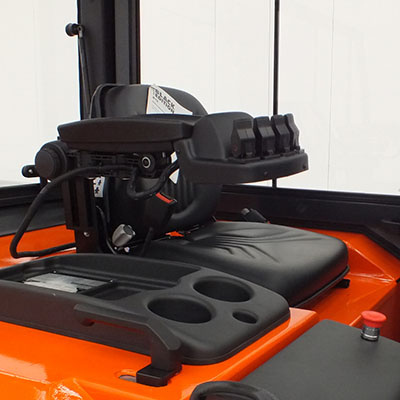 This series includes the R50 and R55H2-short models which are equipped to lift 11,000Lbs and 12,000LB on a shortened chassis. These Electric Forklifts have been equipped to meet all short turning radius (STR) application requirements. A lowered overhead guard design on these units make them more efficient for accessing containers in Railcar applications.
Operator comfort has quickly become a top concern in many industries and Carer is paying attention. While the standard configuration can meet the needs of a typical application, optional add on features are available to enhance the comfort of the operator. Optional comfort additions can include easy access armrest controls for ergonomics, enclosed climate-controlled cab, reduced vibration, and heated air ride seats. A high temperature kit, rear view camera and explosion proofing are just a few additional add-ons available for some of Carer's most popular lift trucks.
When evaluating the costs of replacing your ICE lift truck with an electric forklift we have to consider much more than just the fuel consumption. To get a true measure of the ROI some additional factors will most definitely come into play. Electric forklifts offer a vast reduction in repair and maintenance costs, including tire wear and machine downtime are significant factors to consider. There is less standby idle time on electric forklifts which not only reduces energy consumption but also carbon emissions which can affect operator health over time. Often overlooked when evaluating lift truck operating costs is unproductive labor, wasted time is wasted money.
The Z60-180H & HD series, designed to lift anywhere from 13,000lbs. to 40,000lbs.
The Z series lineup from CARER is a leading solution for the Steel distribution and processing, smelting, aerospace, automotive, paper & cement industries. The high-performance Z series, designed to lift from 13,000lbs up to 40,000lbs, has a smaller footprint making it efficient for confined operating environments. Industries using these lift trucks will enjoy extended operating time, a lower operating cost as well as many other efficiencies that make it the perfect solution.
| SIZE | VISABILITY | COMFORT |
| --- | --- | --- |
| The Carer Z series was designed with a shorter wheelbase achieved by raising the battery and tucking the rear steer axel underneath. These high-capacity electric forklifts can maneuver through confined and challenging spaces as well as lift a high lift capacity load. | The repositioning of the battery compartment to shorten the chassis resulted in a raised operator position. This elevated position along with the standard rearview camera increases safety by giving Carer Z series operators 360-degree visibility. | Operator comfort is at the forefront of industry equipment selections in recent years. Ergonomically designed steering and controls housed in a spacious cabin with a full suspension seat, makes the Z Series comfortable and safer to operate. |
| POWER | STOPPING |
| --- | --- |
| The Z series is equipped with either an advanced 96V or 120V operating system which increases its efficiency. The highly efficient, high voltage systems allow for lower currents and reduced battery stress which ultimately results in increased performance! | The repair and maintenance costs are virtually eliminated with the Carer Z series. The two front traction motors are equipped with a new 100% electric braking system, reducing heat, and increasing control for effective stopping |
The A70x-300x series, designed to lift anywhere from 15,000lbs 66,000lbs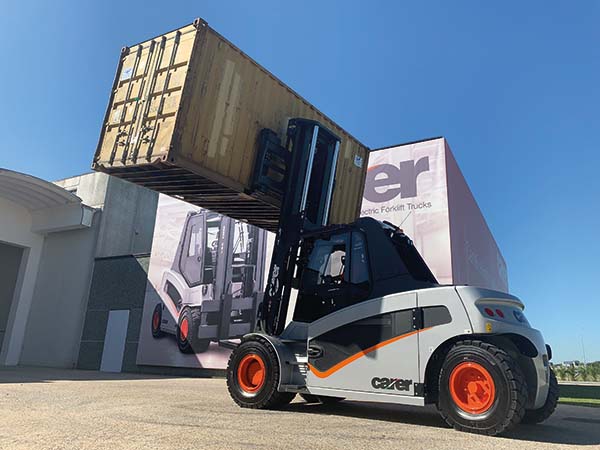 The Carer A series has highly innovative key features, developed using input of the port, lumber, and steel industries to better serve their needs. The Carer engineering team developed silent blocks to help eliminate vibrations and sound transfer in the cab to optimize operator comfort. The triangular battery compartment design allowed for the ability to increase the overall lift capacity, easily. Stabilizing overhead tilt cylinders, dual drive powerhouse motor and high voltage system are unmatched innovative features. Top industries such as lumber, steel, port, cement, and hay are realizing that electric counterbalance forklifts are a viable replacement for their diesel forklifts.
The Carer team had to consider operator and application needs in these top industries to make sure that the A series was able to exceed the comparable ICE forklift counterparts. These industries rely heavily on their equipment, so any potential solution must be able to manage high use applications, multiple shifts, as well as high energy consumption without the need for changing out batteries. To make sure that this series could stand up to industry requirements, the engineering team combined up to a 144-volt operating system with up to a 1600amp hour lithium zero maintenance battery.
A Series Models:
| | |
| --- | --- |
| A80X | 15,400lbs. capacity, with a 24" load center |
| A70X | 17,500lbs. capacity, with a 24", 36" or 48" load center |
| A100X | 15,400lbs. capacity, with a 24" load center |
| A120X | 15,400lbs. capacity, with a 24" load center |
| A140-short | 30,500lbs. capacity, with a 24" load center- SHORT chassis |
| A160-short | 35,000lbs. capacity, with a 24" or 36" load center-SHORT chassis |
| A160X | 35,000lbs. capacity, with a 24" or 48" load center |
| A180X | 40,000lbs. capacity, with a 48" load center |
| A200X | 44,000lbs. capacity, with a 48" load center |
| A300X | 66,000lbs. capacity, with a 48" load center |
R Z or A series lift trucks are unmistakable evidence that Carer is in the business of innovative solutions to reduce business challenges and overcome obstacles for the industries they serve.
Lonestar Forklift can help you evaluate your fleet and identify which electric counterbalance forklift suits your needs. Contact our sales team today.