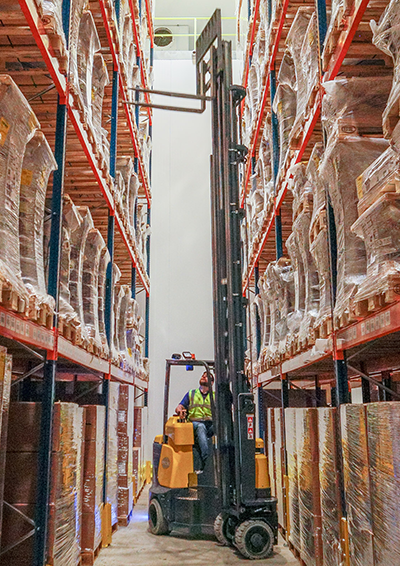 For many businesses, the warehouse is the heart and soul of their operation. It's where shipments come in and go out, it holds all your inventory and it's essentially your business' brain. If you run a distribution center, your warehouse is one of the most important assets you have.
No two warehouses are the same and no two operations are the same. The AisleMaster product line was designed to adapt to these differences and accommodate those who want to make the most efficient use of their warehouse space. Here are 5 ways that AisleMaster can help you rethink your warehouse space.
Maneuverability is key
With the ability to turn in less than half the radius of a conventional counterbalance, AisleMaster articulating forklifts are perfect for warehouses where space is at a premium. When considering the aisle width requirements of the most common styles of forklift trucks in the market today, AisleMaster's is certainly the narrowest!
A 3-wheeled forklift needs 11 feet and the average reach truck needs roughly 9.6 feet, but the AisleMaster only needs 5.3 feet. When planning the design of your warehouse space, AisleMaster's tight turning radius and very narrow aisle capability, allow you to increase your storage capacity.
Increase your storage in the same space
AisleMaster can increase your storage in the same space, by using a smaller footprint.
For example, if you can increase your storage by 50% without having to add any additional square footage, you could spare your business the need to expand into new space, or you can do more with the space that you already have, perhaps for more storage, production, or office space.

What if you could replace 3 machines with 1 and do the same work?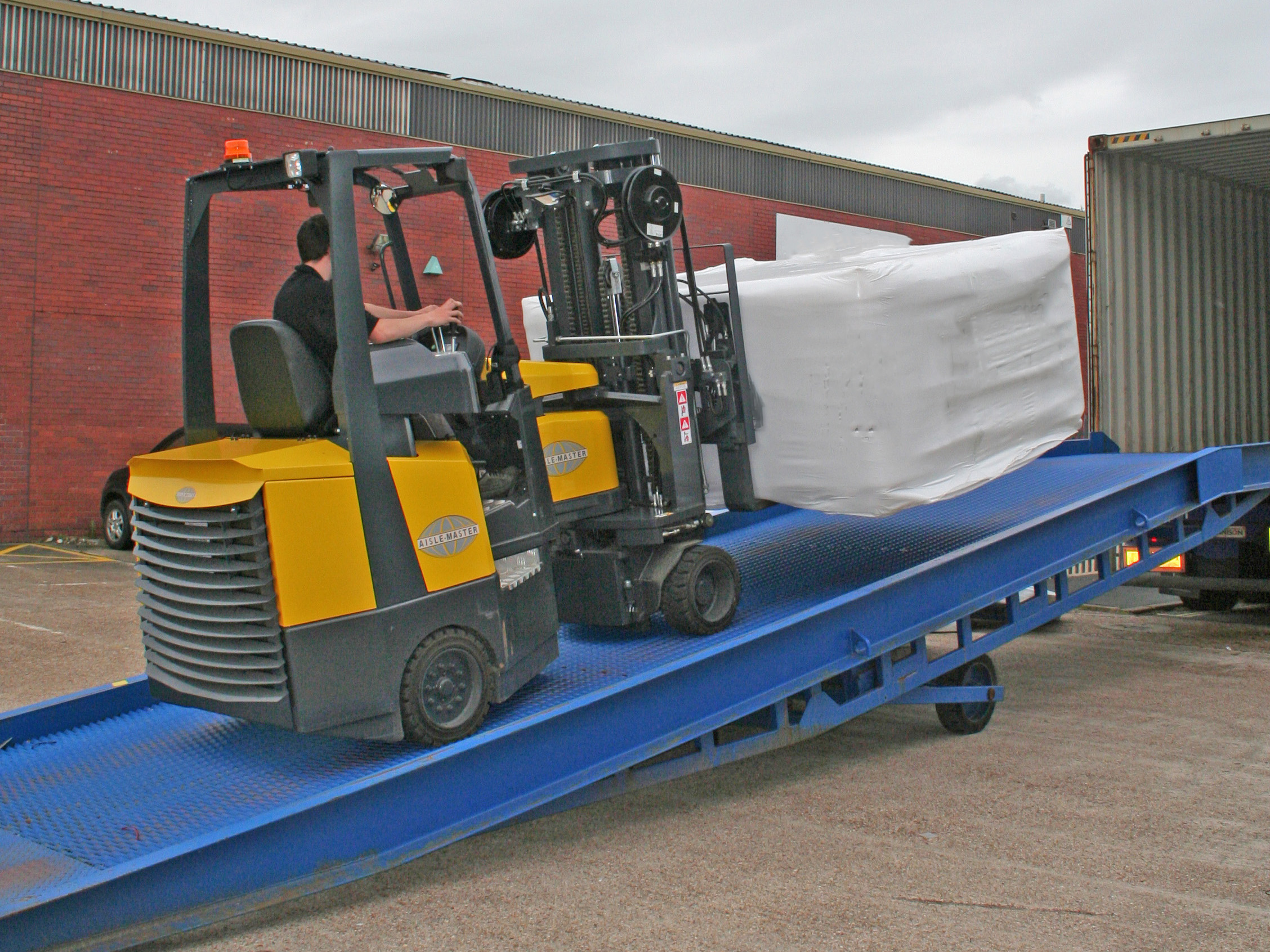 When one machine can do the job of three, you save time, money, and space! There are few machines that can not only load directly from truck to narrow aisle rack, but also work outside. AisleMaster articulating forklifts can!
Along with their narrow body and ability to work indoors and out, these machines help to reduce the need for added handling, product damage, labor costs and energy consumption while increasing workflow.
AisleMaster: the new name in safe, productive equipment
AisleMaster's articulating forklift design offers a low-profile design that fits into the tightest of spaces. This allows for more efficient use of space and increased safety for operators.
Due to the articulation and where the operator is when picking a load, the AisleMaster articulating forklifts offer far superior visibility than an operator would have when looking through the mast.
As an enhanced feature you can choose to add a cargo camera to the carriage. The operator can then have a clear view of the load even at height making it safer and more efficient. The operator can see the load clearly and comfortably at pick height.

Lowest Cost of Ownership
Due to its versatility of replacing multiple machines and its ability to provide a serious return on investment with regards to moving and additional square footage costs, AisleMaster is the lowest cost of ownership solution for your warehouse. It's more efficient and versatile than a standard counterbalance forklift, reach truck or small forklift.
We believe that this product is a game-changer for the warehousing industry, and we are proud to be supporting AisleMaster in their mission. The features of this machine allow for increased efficiency, productivity, and safety at a low cost of ownership. Whether your warehouse is large or small, short or tall, rectangular or L-shaped, AisleMaster can provide the ideal solution for efficiently storing goods within your facility.