Load charts for telehandlers are an important but sometimes overlooked aspect of safe operation. For many applications, transporting, putting, and retrieving loads is a daily operation. Many elements can influence how a load should be managed when moving things. These factors include the weather, the size and weight of the goods, and the height to which they must be raised. Certain materials may also necessitate the use of a specialized attachment in order to be handled effectively.
Before transferring items, operators must examine the situation and comprehend their telehandler's capabilities. That's why every telehandler has a load chart in the cab. When operators are transferring items, this chart serves as a quick reference guide. A telehandler load chart often looks like these JLG and Genie charts: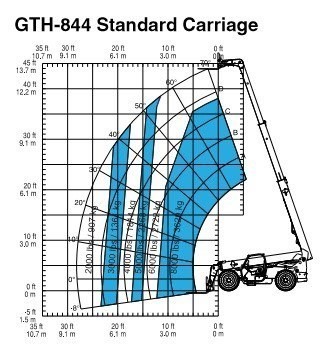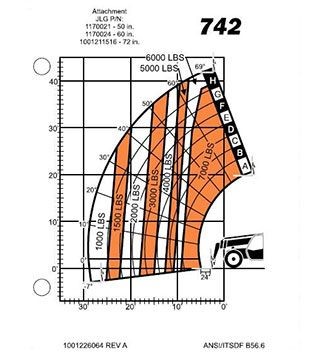 It can be difficult to read load charts at first, but operators must be able to do so in order to stay safe. Each telehandler load chart includes a grid that displays the unit's maximum reach and lift range. The retracted and extended boom positions are represented by this range. The chart shows reach at the bottom, lift on the left, and capacity in the middle.
Telehandlers lose lift capacity as the boom goes further out from the unit, as a rule. Let's have a look at the GTH-844 graph as an example. It has an 8,000-pound lift capacity when moving things within 5-10 feet of the device. The capacity is reduced to 2,000 pounds if the boom is extended to 25 feet.
Many lift charts are based on a unit with 24" load center forks. These calculations can be dramatically altered by longer forks and alternative attachments. For more information, consult your user manual or contact the manufacturer to see if other load charts are available.
To interpret the load chart correctly, the operator must first determine several factors. These include:
The materials' weight and dimensions.
To reach the targeted place, the lift must be raised to the required height.
Your telehandler's capacity and lift capabilities.
After determining these factors, the operator must navigate the unit to the proper placement/retrieval position. Letters ranging from A through H, and sometimes beyond, are used to indicate these on the telehandler load chart. The operator ensures a safe lift or placement for the materials by functioning within this letter range. This lowers the risk of harming materials, overstretching the unit, or dropping the weight.
Safe Operation Essentials
Learn everything there is to know about your telehandler. Lift height, capacity with/without outriggers, steering modes, and vision are all factors to consider.
Know your way around the job site and be aware of any potential dangers.
Make changes to the operation speed based on the weather.
For every lift and retrieval, consult the telehandler load chart.
Additional staff should be used to place and retrieve loads on higher levels.
It is critical to read and comprehend load charts in order to operate safely. Operators will utilize their telehandlers safely and productively if they refer to them for every lift and placement. For additional information about telehandler load charts, or to get a new one for your machine, contact Lonestar Forklift today!