Why is it important to fully understand your application requirements before selecting a forklift?
It is important to fully understand the application needs before selecting a forklift because different forklifts are designed for different tasks and applications. Forklifts come in a variety of sizes, configurations, and load capacities, and selecting the wrong forklift can lead to inefficiency, safety issues, and equipment damage.
At Lonestar Forklift we understand that every application is different. By conducting a site analysis and understanding the detailed needs of each application, we can help to determine the specific forklift requirements for your specific application. We use the analysis to identify needs, such as the maximum load capacity, the lift height required, the type of fuel or power source that would work best, and the maneuverability requirements of the facility. For example, if you need to move heavy loads over long distances, you may need a forklift with a larger fuel tank or a higher capacity battery to ensure it can operate for extended periods without refueling.
Additionally, understanding the application needs can lead you to select a forklift with the right features and attachments to improve productivity and safety. For example, since your last material handling audit, the products you're lifting may have changed slightly, and those slight changes can lead to significant safety risks.
By selecting the right forklift for the application, you can improve efficiency, reduce downtime, and increase safety in the workplace. This can ultimately lead to cost savings and improved productivity, making it well worth the time and effort to fully understand the application needs before selecting a forklift.
Six Key Factors to Consider in Selecting the Right Forklift for your Application.
Forklifts are an essential piece of equipment in many industrial applications, including manufacturing, warehousing, and construction. So, when it comes to forklift requirements for industrial applications, there are several key factors to consider.
These include: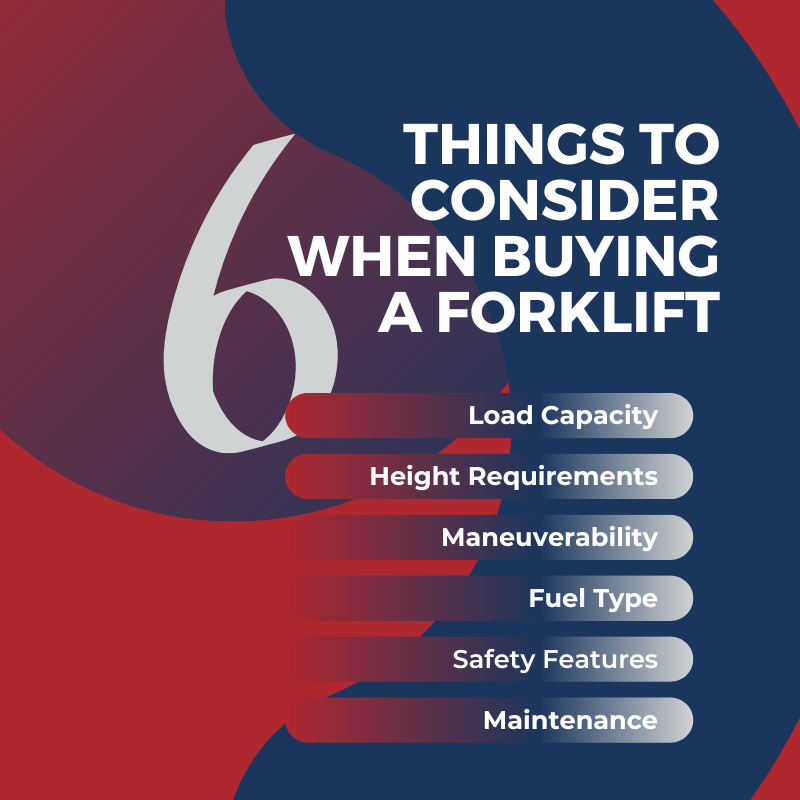 Load Capacity:
Forklifts are designed to handle specific weight capacities, so it's important to choose a forklift that is rated to handle the loads you will be moving. Overloading a forklift can be dangerous and can lead to accidents or equipment damage. It is not just the weight you're lifting, but the terrain, product dimensions, load centers, height, and how high you need to lift that determines what machine you need.
Height:
Forklifts come in different heights, and the maximum lift height will depend on the type of forklift and the application. It's important to choose a forklift with a lift height that is right for the tasks you will be performing without limiting where it can go on site.
Maneuverability:
Depending on your specific application your forklifts may need to be able to move around tight corners, between rows of pallets or navigate narrow aisles. When this is the case, you would choose a forklift with a compact design and good maneuverability.
Fuel Type:
Forklifts can run on gasoline, diesel, propane, or electricity. The fuel type you choose can depend on the application, the operating environment, and the cost of fuel. Ensure you evaluate more than the initial cost of the machine when choosing.
Safety Features:
At a minimum, forklifts should be equipped with safety features such as seat belts, horns, and lights to ensure safe operation. Beyond the safety features, it's also important to train operators properly and ensure they are always following safety protocols. Some sites may have pedestrian walkways, people with hearing difficulties or other needs that require additional solutions to ensure safety is paramount.
Maintenance:
Forklifts require regular maintenance to keep them in good working order. This includes tasks such as checking battery maintenance, fluid levels, greasing components, replacing filters, and inspecting brakes and tires. It's important to follow the manufacturer's recommended maintenance schedule to ensure safe and reliable operation.
Overall, choosing the right forklift for your industrial application requires careful consideration of your specific needs and requirements. By taking the time to review your applications and choose the right equipment, you can ensure safe and efficient operation and maximize productivity in your facility.