Employee retention has become a top priority for many employers as turnover rates hit an all-time high. Companies are now shifting towards a more employee-focused attitude, recognizing that ensuring the comfort level of employees is essential for employee retention. Material handling equipment manufacturers like Manitou have made operator comfort a top priority in their designs, recognizing the impact it has on employee satisfaction and retention.
High turnover has had a significant impact on productivity, and companies are starting to realize the importance of retaining their best talent. Research has shown that six key factors contribute to employee retention: people and culture, acknowledgement at work, meaningful benefits, ongoing training, workplace environment, and mission and values alignment.
RETAIN TALENT
Retaining top talent is not just about employee satisfaction; it also benefits the growth of the company over time and brings immense value to the business. Engaged employees are more productive and successful, leading to increased self-confidence and better performance for both the employee and the employer. In contrast, companies with high turnover rates can lose an average of $120,000 per lost employee.
Company culture and employee comfort and safety are top factors that contribute to employee satisfaction. Employees want to work in an environment that is comfortable, safe, and supportive. When these factors are not met, employees may leave the company, leading to decreased productivity and increased turnover rates.
We have all seen how the trend toward WFH jobs is making employees seek new opportunities. For jobs that cannot be done remotely, such as forklift operators, warehousing staff and construction workers, employee comfort is just as essential. The top reasons given by equipment operators for quitting or changing jobs last year were poor equipment maintenance, uncomfortable working conditions (such as working in extreme temperatures), poor leadership, lack of recognition, lack of proper training or coaching.
WHAT EQUIPMENT OPERATORS WANT
When forklift operators are considering a potential employer, they may look for factors such as competitive compensation, career advancement opportunities, safety and workplace culture, equipment and facilities, work schedule and flexibility, company reputation and stability, along with location. Forklift operators are seeking safe and supportive work environments with opportunities for career growth and fair compensation.
Research has shown that employee comfort is a significant factor in achieving the goal of employee retention. Material handling equipment manufacturers like Manitou, have always listened to feedback from their dealers and customers, to recognize and focus their engineering to ensure that operator comfort is a top priority in their development process.
OPERATOR COMFORT:
To ensure operator comfort, material handling equipment manufacturers like Manitou are focused on incorporating ergonomic designs into their equipment, such as controls at your fingertips to reduce reaching. They are designing equipment with comfortable seats, easy-to-reach controls, and adjustable steering columns, all in the interest of reducing operator fatigue.
NOISE AND VIBRATION REDUCED:
Exposure to excessive noise and vibration can have harmful effects on equipment operators, which can result in both short-term and long-term health problems. About 40% of all workers in Transportation and Warehousing have been exposed to hazardous noise. Excessive noise and vibration can have harmful effects on equipment operators, such as hearing loss, tinnitus, reduced productivity, fatigue and stress, musculoskeletal disorders. Prolonged exposure to whole body vibration can result in low back pain, herniated disc and early degeneration of the spine, neck and shoulders. This knowledge led Manitou to take measures to reduce noise and vibration in all of their equipment designs by adding features, such as insulated cabs, vibration-dampening systems, and noise-reducing materials.
KEEP YOUR COOL
In addition to these features, Manitou is also outfitting their equipment with air conditioning and heating in the operator's cabin. These features are essential for forklift operators and other equipment operators, who often work in extreme temperatures, as they can help prevent operator fatigue and increase productivity.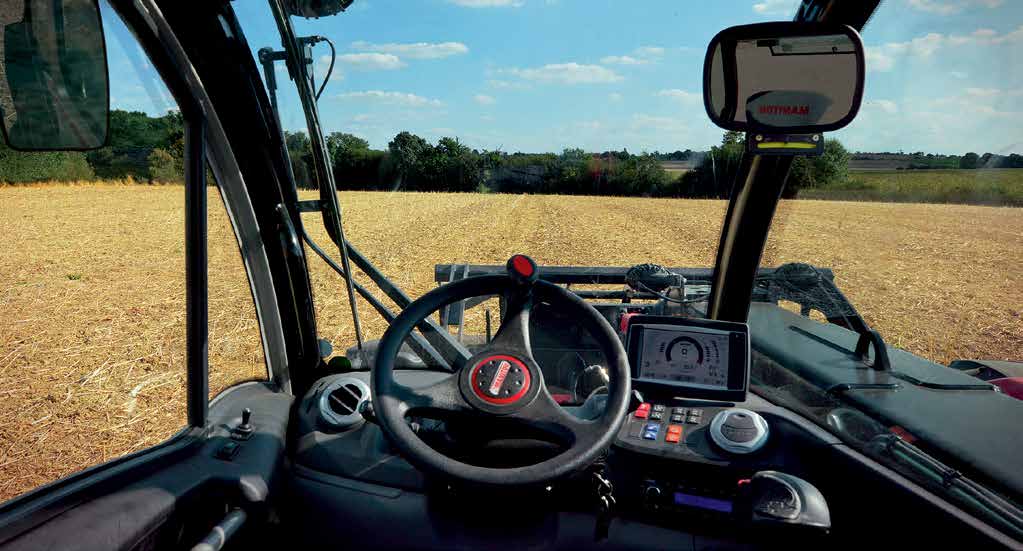 360 VISION
Many material handling equipment manufacturers including Manitou are also improving the visibility of their equipment. They are using cameras and sensors to provide a 360-degree view of the working environment, allowing the operator to work more efficiently and with greater precision. This technology also helps prevent accidents and enhances operator safety.
Prioritizing operator comfort and safety can lead to increased job satisfaction and employee retention. Employers who invest in the right tools for the job are likely to attract and retain top talent, leading to increased productivity and company growth.
Contact Lonestar Forklift today to find the right Manitou for you and let us show you how you can reduce employee turnover, increase productivity, and save money, all at once.