The Pipe and Concrete industries play pivotal roles in construction and infrastructure development, ensuring the smooth flow of water, gas, and other essential resources while providing sturdy foundations for buildings and transportation networks. However, both sectors face unique challenges when it comes to material handling. From diverse material types and specialized requirements to operational efficiency and safety concerns, finding the right equipment can be a daunting task. Lonestar Forklifts understands these challenges and stands ready to deliver innovative solutions to empower these industries for success.
Diverse Material Types and Sizes:
The Pipe and Concrete industries deal with an extensive range of materials, varying in shape, size, and weight. From lightweight PVC pipes to hefty concrete and steel pipes, selecting equipment that can handle this diversity is essential. Lonestar Forklifts offers a comprehensive range of material handling equipment capable of accommodating the entire spectrum of materials. With various attachments and customization options, Lonestar's equipment can handle everything from pipes and precast elements to formwork and aggregates.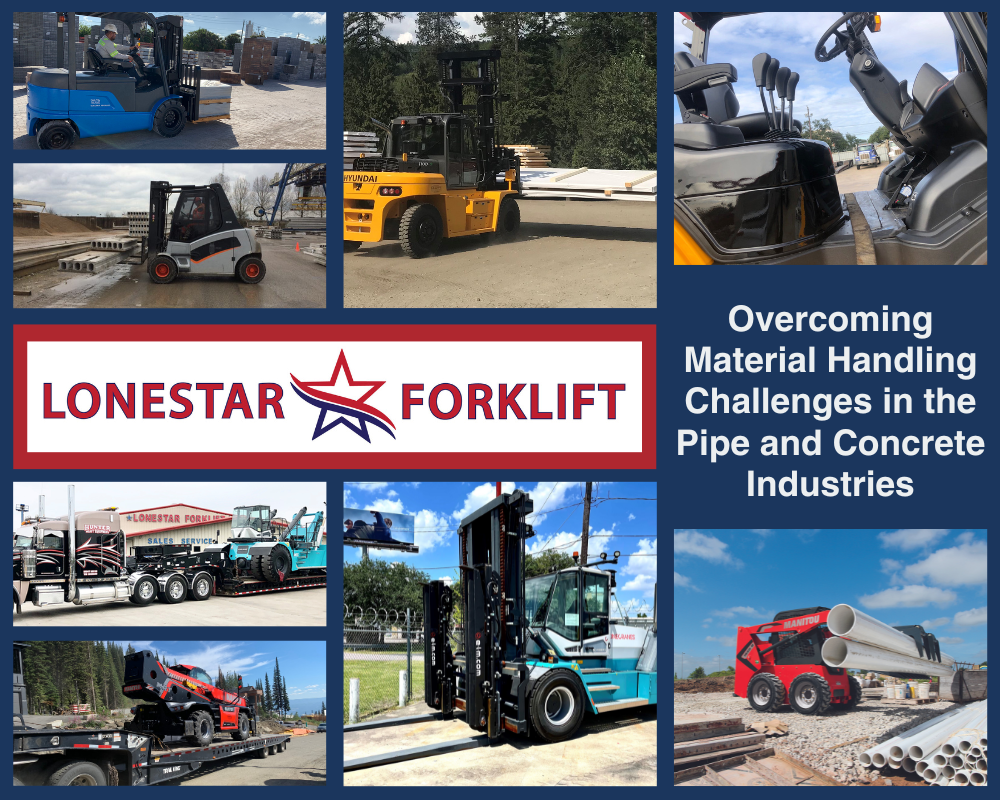 Specialized Requirements:
Projects in the Pipe and Concrete industries often have specific material handling demands. For example, the Concrete Industry may require equipment capable of lifting and placing precast concrete elements with precision. Lonestar Forklifts understands the need for specialized solutions and offers a wide selection of telehandlers equipped with attachments suitable for various applications. Whether it's lifting and positioning heavy concrete structures or handling delicate precast elements, Lonestar has the right equipment to meet any project's unique requirements.
Cost Considerations:
Investing in material handling equipment can be a significant expense for companies. Lonestar Forklifts recognizes the importance of balancing efficiency and cost-effectiveness. By partnering with Lonestar, businesses can access a diverse fleet of rental options, allowing them to select the most suitable equipment without exceeding their budgets. Additionally, Lonestar offers flexible financing and leasing options, enabling businesses to access top-quality equipment without hefty upfront costs.
Safety and Compliance:
Safety is paramount in industries dealing with heavy and potentially hazardous materials. Lonestar Forklifts prioritizes safety in all aspects of its equipment offerings. Our inventory includes cutting-edge models equipped with advanced safety features, ensuring optimal protection for operators and on-site personnel. Lonestar also provides comprehensive training programs to empower operators with the knowledge and skills to handle the equipment safely and efficiently. Additionally, all equipment from Lonestar meets rigorous safety standards and regulatory requirements.
Operational Efficiency:
To stay competitive, businesses in the Pipe and Concrete industries must prioritize operational efficiency. Lonestar Forklifts' material handling equipment is designed with productivity in mind. With industry-leading lift capacities, swift maneuverability, and low maintenance requirements, Lonestar's vast selection of equipment enhances project efficiency, reducing downtime and maximizing productivity on construction sites or within manufacturing facilities.
Expertise and Support:
Lonestar Forklifts boasts a team of material handling experts with extensive industry knowledge. Our professionals work closely with clients to understand their unique challenges and recommend the most suitable equipment solutions. From equipment selection to maintenance and servicing, Lonestar provides unparalleled customer support throughout the equipment's lifecycle, ensuring seamless operations and minimizing disruptions.
The Pipe and Concrete industries face diverse material handling challenges, from handling various materials to addressing specialized project requirements. Lonestar Forklifts is dedicated to empowering these industries with top-quality material handling equipment and exceptional expertise. By partnering with Lonestar, businesses gain access to a comprehensive range of equipment options, tailored solutions, and unwavering support. With Lonestar Forklifts by their side, the Pipe and Concrete industries can confidently tackle any material handling challenge and thrive in the ever-evolving construction landscape.