JLG Electric Scissor Lift Features: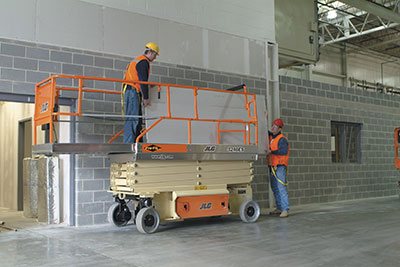 No Doorway is Too Small – With a narrow chassis design, the smallest JLG Scissor lift is only 2'6" wide. Combine this with working heights up to 46', and you'll find that JLG lifts can reach where others simply can't.
Power That Lasts – On a single charge, the electric drive delivers more than double the battery life over a standard hydraulic drive machine, and more run-time means that more gets done. On top of this, JLG scissor lifts feature an improved battery charger that reduces charging time.
Service Made Easy – An all-steel swing out component tray provides easy access and serviceability, limiting the amount of time your lift spends in the shop. This ensures that your equipment is ready to go in the least amount of time possible.
Simple Design – The ES series of JLG scissor lifts have just two hoses and four fittings, which makes for a cleaner machine and fewer scheduled service requirements.
JLG Rough Terrain Scissor Lift Features: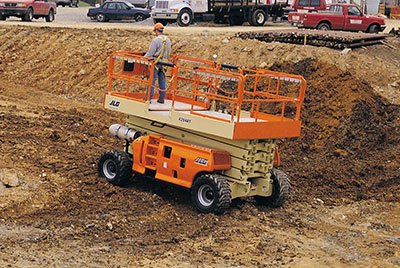 Stable on All Surfaces – Four hydraulic leveling jacks provide stability at the push of a button. These jacks provide self levelling up to a five-degree angle from side to side, and a four-degree angle from front to rear.
Spacious Work Platforms – Fit more people, tools, and supplies on large, spacious platforms. The 530 LRT model in particular features a 4' deck extension for even greater work space.
Stable Operation – JLG scissor lifts feature up to 45% gradeability and highly dependable engines. This gives you all the reliable slope climb you need, with all the rugged power to get you where you need to be.
Off-Road Capability – Need a more rugged JLG lift? The twin-pump, diesel-powered RT and MRT provide four-wheel drive and an extended lift capacity up to 500 lbs, giving you both power and maneuverability to get the job done.