Skid Steer Repairs and Service
For all your
skid steer repairs
and track loader repair needs, look no further than Lonestar Forklift! As a leading provider of equipment solutions, we're proud to support your equipment with quality repairs and maintenance programs. Whether you're bringing your equipment to us or need us to come to you, we'll deliver an effective service solution every time. Our technicians are factory-trained and highly experienced with all leading makes and models. This ensures that each skid steer repair we perform is efficient, effective, and performed to manufacturer standards. In addition to in-shop and mobile service solutions, Lonestar Forklift is proud to offer complete maintenance programs. This makes it easy to keep your fleet in peak operating condition, maximizing productivity and machine life. To learn more about our track loader and compact loader repair services, contact our team!
Types of Skid Steer Repair Services We Offer
Our in-shop service solutions are perfect for scheduled maintenance and repairs. Every skid steer repair is delivered by an experienced factory-trained technician. This ensures that your track loader stays up to manufacturer standards, optimizing usable life and performance. With seven convenient locations throughout Texas, we offer in-shop service solutions for operations in many areas. Whether you're bringing your skid steer to us for routine maintenance or an in-depth repair, we'll get the job done right.

If you can't bring your skid steer to us, we'll dispatch a technician to your site. This allows you to receive the same high-quality track loader service or compact loader service without the hassle of logistics. Our mobile on-site services are ideal for downed equipment and emergency repairs. As is the case with our in-shop service, all mobile technicians are factory-trained and highly experienced. As a result, every skid steer repair is performed to the highest standards.
For more information on our mobile and in-shop repair solutions, contact our team!
Skid Steer Repair and Maintenance Programs
Planned Maintenance
This program ensures that regular service is performed on your equipment to prevent performance issues. Our team performs a full system analysis to determine the perfect maintenance intervals for your needs. This analysis also alerts you of any major repairs that will need to be completed, eliminating the element of surprise. All maintenance is performed using high-quality factory parts backed by a leading warranty. When you choose our planned maintenance program, you're maximizing your machine's life while staying informed of potential major repairs.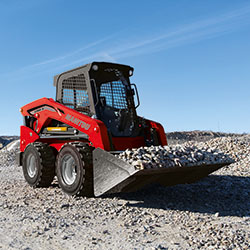 Total Maintenance
Our total maintenance program is ideal for operations that want to focus on their daily tasks without worrying about repairs. This plan covers all aspects of your equipment except for abuse and wear items. A flat monthly fee covers routine maintenance and most major repairs, making it easy to track and budget for service costs. By choosing a total maintenance skid steer repair plan, you're ensuring there are no surprise repair expenses. If you want an in-depth skid steer repair plan that provides total peace of mind, look no further than our total maintenance program.
Fleet Tracking
If you want to easily view the condition of your entire fleet immediately, our Fleet Track program is the perfect solution. This innovative online system makes it easy to quickly assess and monitor the condition of each unit in your fleet. Users can view detailed maintenance data, service records, and track the operating cost per hour of each machine. This information can then be used to make informed decisions regarding machine turnover and purchasing.
Contact our service team today to learn more about our maintenance programs and skid steer repair services.