Straight Genie Boom Lift Features: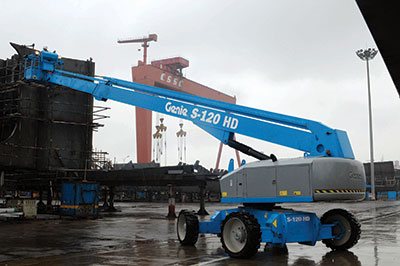 Impressive Outreach – Straight Genie man lifts feature sturdy booms with some of the greatest horizontal reach in the industry. For example, the SX-135 XC has a horizontal outreach of up to 90'! This makes them the perfect choice for high rise construction, bridge inspections, sports arenas, and maintenance work.
More Maneuverability – A tight turning radius makes for easy maneuverability in confined spaces, while four-wheel drive creates off-road capabilities. An enhanced drive speed makes straight line operation fast and productive.
High Hauling Capacity – With platform load capacities up to 1,000 lbs., you can lift more equipment, material, and people. This results in fewer lifts and reduced working hours, increasing your productivity.
Attachments for Every Job – Numerous attachments and options create practical solutions for changing job sites. Whether you're in need of a light package to illuminate dark work areas, or a heavy-duty welder package for operating power tools on the fly, the versatile Genie man lift has the attachments you need for the task at hand.
Genie Articulating Boom Lift Features: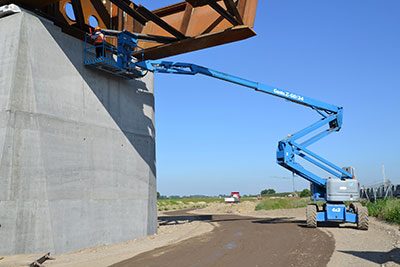 Access Hard to Reach Areas – Genie articulating man lifts are built for reaching confined areas. This allows them to be used in oil and gas industries, commercial construction sites, and for general maintenance.
Steering Options – Available on applicable models, four-wheel steering provides front-wheel, rear-wheel, and crab steering configurations for added control in areas with limited space.
Designed for Heavy Loads – Genie articulating boom lifts are well-known for their high load capacities and incredible up-and-over navigational capabilities. This means they can accomplish heavy lifting tasks on construction and industrial sites with ease.
Multiple Fuel Options – Genie offers a wide variety of fuel options for their articulating boom lifts. Electric, diesel, hybrid, duel fuel, gas, and LPG options are all available for both indoor and outdoor applications. These engines provide low emissions to ensure compliance with all environmental regulations.
To find the perfect Genie boom lift for every work site in Texas, contact the team at Lonestar Forklift today!