Rough Terrain Genie Scissor Lift Features:
Cost Effective and Efficient – Offering excellent gradeability, traction, and highly efficient drive speeds, Genie aerial lifts help you make the most of the equipment on your jobsite. A Genie scissor lift gets the job done in less time, for less money.
Spacious Platform Deck – All Genie rough terrain models come with a standard multi-position slide-out extension deck on the front of the platform, with a rear extension deck available on some models. This makes these units perfect for outdoor jobs where extended platform space is crucial.
Service Made Simple – Rough terrain Genie aerial lifts are easy to service and feature on-board diagnostics to help operators troubleshoot problems on the go. Slide and pull-out engine trays allow for easy access to all vital components, while many parts and servicing procedures are standardized across the entire Genie lineup. This ensures that all service can be done quickly and efficiently, getting your aerial lift back to work as soon as possible.
Smart & Precise Operation – An optional oscillating axle that senses the surrounding terrain keeps all four wheels on the ground during operation. This gives you more control and provides added power for climbing slopes and navigating obstacles.
Indoor and Outdoor Application – Rough terrain Genie aerial lifts have the option of foam filled all-terrain tires. This provides the versatility of starting outdoors and finishing indoors without the fear of scuff marks or damaged floors.
Electric Genie Scissor Lift Features: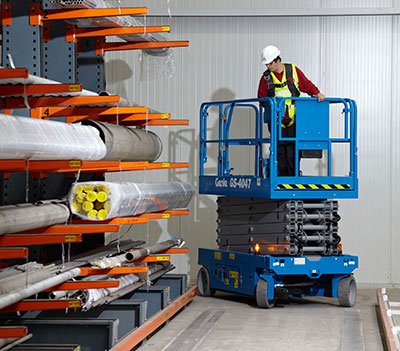 Compact Design – Perfect for construction sites, industrial aisles, or elevator shafts, electric Genie aerial lifts feature highly maneuverable front-wheel drive. A zero inside turning radius on most models makes them ideal for congested or narrow applications both indoors and outdoors.
Quiet and Eco-Friendly – Electric Genie scissor lifts are practical for sound-sensitive environments like concert halls, theatres, or offices. They also provide low emissions to meet environmental regulations and requirements.
Reach Higher and Carry More – Built to offer practical working heights but also heavy duty lift requirements, Genie electric scissor lifts can reach up to 45' and can lift up to 1,200 lbs.
Fast Charge & Integrated Generator – Charge your Genie scissor lift at the end of the workday and have confidence that it will be ready to go the next morning. There is also an integrated 120V AC generator to supply power to the platform and chassis for the use of power tools.