Austin Equipment Operator Safety Training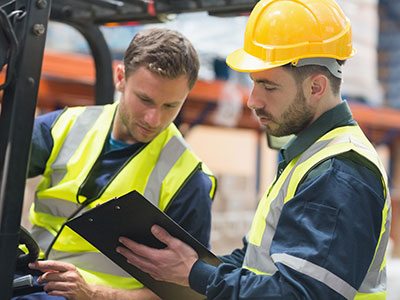 Are you looking for forklift certification in Austin, TX? Maybe you're looking to update your scissor lift training. Lonestar Forklift is happy to provide you with OSHA and ANSI rated equipment operator safety training courses. Help keep your workplace and coworkers safe by investing in your safety knowledge.
We have 3 blended training courses to choose from at our Austin location: Forklift Certification, Telehandler Certification, and Mobile Elevated Work Platform (MEWP) Certification.
Blended Training Method
The Blended Training method combines online learning and practical experience to create a flexible learning experience. Did you know it will only take you 5.5 hours or less to complete a blended training course? Most of your learning will take place in the field gaining hands-on experience, as the online theoretical component is only 90 minutes or less.
A practical assessment, the second portion of a blended training course, is required by federal OSHA regulations to be completed every three years. Your safety is our top priority. That's why we have selected some of the state's most experienced equipment operation instructors to be our educators. At Lonestar Forklift, every student gets time on equipment! Depending on the number of other participants, the practical assessment will take up to 4 hours to complete.
Available Blended Training Classes in Austin, Texas
Forklift Training – This course will cover the fundamentals of operating a forklift on a worksite. Learn how to navigate safely with pedestrians nearby, how to correctly lift and lower a load, how to safely start-up and shut-down, and other information regarding forklift components.
Telehandler Training – Learn how to fully understand load charts and put them into safe practice. Cover the basics of driving, how to navigate around hazards like powerlines, different safety signals, and factors that impact telehandler stability.
MEWP (Scissor Lift and Boom Lift) Training – This single blended training course will teach you how to safely operate a scissor lift and a boom lift. Learn how to navigate over different types of terrain, how to safely lift and lower the platform, how to perform a walk-around inspection, and so much more.
Motorized Pallet Jack Training – This course helps satisfy the operator training requirements under OSHA's Powered Industrial Trucks Standard. Specifically, it is designed to help learners inspect and operate a motorized pallet jack in a safe way, protecting themselves and their coworkers from the potential hazards associated with their use.
Have you completed your online theory training and are ready to book a practical assessment? Contact our Austin Lonestar Forklift location to complete your operator safety training today!