Operator Safety Training in Dallas, Texas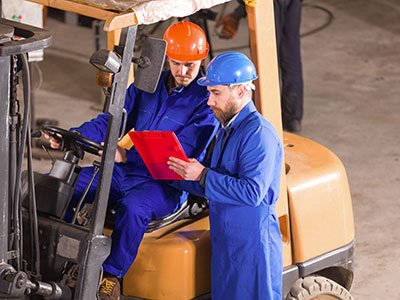 Do you need to complete forklift training in Dallas, Texas? Maybe it's time to renew your Mobile Elevated Work Platform license. Lonestar Forklift is happy to offer many different training courses to help you maintain your safety while at work. Operating equipment exposes you to different types of risks, and we want to help you avoid as many as possible. By completing our OSHA and ANSI rated operator training courses, you will be able to keep yourself, your coworkers, and your environment free from harm.
We have 3 blended training courses to choose from at our Dallas location: Forklift Certification, Telehandler Certification, and Mobile Elevated Work Platform (MEWP) Certification.
Blended Training Method
Blended training provides you with greater flexibility when it comes to operator training. Spend less time in the classroom and more time working when you register for a blended training course. The course is broken into two parts—online theory training and a practical assessment. Did you know that the online portion can be completed in 90 minutes or less? Our online training platform is available on all computers and most mobile devices.
Once you have completed your online training, it's time to register for a practical assessment, which is required by law in the state of Texas. Our Dallas Lonestar Forklift location is proud to have some of the most experienced operators instruct our various practical assessments. This second half of the training course will take up to 4 hours to complete depending on the number of other participants.
Available Blended Training Classes in Dallas
Forklift Training – Cover the basics of safely operating a forklift while maintaining machine stability. Learn the different parts of a forklift, as well as proper start-up and shut-down procedure.
Telehandler Training – Learn the fundamentals of navigating a telehandler around a busy worksite. Cover the basics of handling loads, understanding load charts, and the different parts of a telehandler and how they affect machine stability.
MEWP (Scissor Lift and Boom Lift) Training – This training course covers the basics of operating both a boom lift and a scissor lift. Learn how to navigate each type of equipment around a worksite, as well as how to identify other types of Mobile Elevated Work Platforms.
Motorized Pallet Jack Training – This training course covers training requirements under OSHA's Powered Industrial Trucks Standard. This is designed to help learners inspect and operate a motorized pallet jack in a safe way, protecting themselves and their coworkers from the potential hazards associated with their use.
Have you completed your online theory training and are ready to book a practical assessment? Contact your Dallas Lonestar Forklift location to complete your operator safety training today!