Forklift Training in San Antonio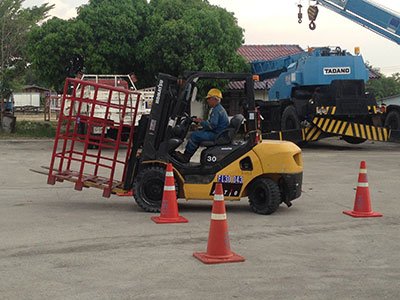 Do you need to complete forklift training in San Antonio? Maybe it's time to renew your telehandler license. Lonestar Forklift is proud to offer several operator training courses to help you maintain your safety while at work. Operating equipment is a dangerous job, and we want to help you avoid all risks involved. By completing our OSHA and ANSI rated operator training courses, you will be able to keep yourself, your coworkers, and your environment free from harm.
We have 3 blended training courses to choose from at our San Antonio location: Forklift Certification, Telehandler Certification, and Mobile Elevated Work Platform (MEWP) Certification.
Blended Training Method
Blended training provides greater flexibility when it comes to your training. The course is broken into two parts—online theory training and a practical assessment. This style of learning gives you the chance to learn at your own pace for the theoretical portion and gain hands-on experience during the practical assessment. You can complete the online training portion in 90 minutes or less depending on the course. Our online training platform is available on all computers and most mobile devices.
You can register for your practical assessment as soon as you've finished your online training. This practical assessment is required by law in the state of Texas. Our San Antonio Lonestar Forklift location is proud to have the practical assessments run by experienced and knowledgeable equipment operators. Depending on the number of other participants, your practical assessment will take up to 4 hours to complete.
Available Blended Training Classes in San Antonio
Forklift Training – Learn how to safely start-up, operate, and shut-down a forklift with this course. Cover topics such as managing stability, avoiding obstacles, driving with pedestrians nearby, and how to refuel the equipment.
Telehandler Training – This course will teach you how to understand load charts, how to manage machine stability while maneuvering a load, and how to avoid common obstacles while driving like power lines.
MEWP (Scissor Lift and Boom Lift) Training – Learn how to operate both a scissor lift and a boom lift with this one training course. Cover topics such as navigating the equipment over different types of terrain, how to do a walk-around inspection, and how to start-up and shut-down the equipment.
Motorized Pallet Jack Training – This is designed to help learners inspect and operate a motorized pallet jack in a safe way, protecting themselves and their coworkers from the potential hazards associated with their use.
Have you completed your online theory training and are ready to book a practical assessment? Contact your San Antonio Lonestar Forklift location to complete your operator safety training today!